Ehre sei dir, Gott, gesungen
BWV 248/5 // Christmas Oratorio
(Glory to thee, God, be sounded) for soprano, alto, tenor and bass, vocal ensemble, oboe d'amore I+II, strings and basso continuo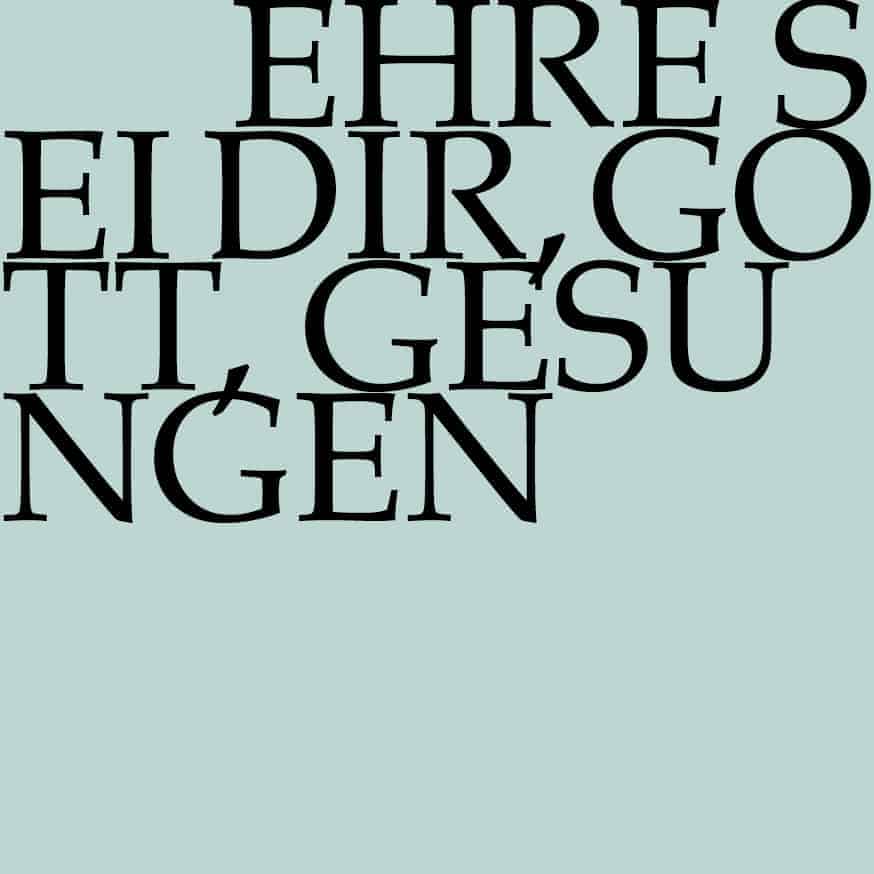 Video
Experience the introductory workshop, concert and reflective lecture in full length.
Workshop
Reflective lecture
«Lutzogram» for the introductory workshop
Rudolf Lutz's manuscript for the workshop
Audio
The sound recording of this work is available on several streaming and download platforms.
Soloists
Choir
Soprano
Jessica Jans, Simone Schwark, Susanne Seitter, Noëmi Tran-Rediger, Alexa Vogel, Anna Walker
Alto
Antonia Frey Sutter, Lara Morger, Lea Pfister-Scherer, Alexandra Rawohl, Simon Savoy
Tenor
Marcel Fässler, Clemens Flämig, Tiago Oliveira, Sören Richter
Bass
Fabrice Hayoz, Grégoire May, Simón Millán, Philippe Rayot, Jonathan Sells
Orchestra
Conductor
Rudolf Lutz
Violin
Eva Borhi, Lenka Torgersen, Peter Barczi, Christine Baumann, Dorothee Mühleisen, Ildikó Sajgó
Viola
Martina Bischof, Matthias Jäggi, Sarah Mühlethaler
Violoncello
Maya Amrein, Hristo Kouzmanov
Violone
Markus Bernhard
Oboe d'amore
Andreas Helm, Philipp Wagner
Bassoon
Susann Landert
Harpsichord
Thomas Leininger
Organ
Nicola Cumer
Musical director & conductor
Rudolf Lutz
Workshop
Participants
Rudolf Lutz, Pfr. Niklaus Peter
Reflective lecture
Speaker
Rudolf Wehrli
Recording & editing
Recording date
18/01/2019
Recording location
Trogen AR (Schweiz) // Evangelische Kirche
Sound engineer
Stefan Ritzenthaler, Nikolaus Matthes
Director
Meinrad Keel
Production manager
Johannes Widmer
Production
GALLUS MEDIA AG, Switzerland
Producer
J.S. Bach Foundation of St. Gallen, Switzerland
Matching publications in our shop
Librettist
First performance
1 January 1735 in Leipzig
Text
Christian Friedrich Henrici (Picander)
Georg Weissel (46.); Johann Franck (53.)
Libretto
43. Chor
Ehre sei dir, Gott, gesungen,
dir sei Lob und Dank bereit'.
Dich erhebet alle Welt,
weil dir unser Wohl gefällt,
weil anheut
unser aller Wunsch gelungen,
weil uns dein Segen so herrlich erfreut.
44. Rezitativ (Evangelist: Tenor)
»Da Jesus geboren war zu Bethlehem im jüdischen Lande zur Zeit des Königes Herodis, siehe, da kamen die Weisen vom Morgenlande gen Jerusalem und sprachen:«
45. Chor und Rezitativ — Alt
»Wo ist der neugeborne König der Jüden?«
Sucht ihn in meiner Brust,
hier wohnt er, mir und ihm zur Lust!
»Wir haben seinen Stern gesehen im Morgenlande und
sind kommen, ihn anzubeten.«
Wohl euch, die ihr dies Licht gesehen,
es ist zu eurem Heil geschehen!
Mein Heiland, du, du bist das Licht,
das auch den Heiden scheinen sollen,
und sie, sie kennen dich noch nicht,
als sie dich schon verehren wollen.
Wie hell, wie klar muß nicht dein Schein,
geliebter Jesu, sein!
46. Choral
Dein Glanz all Finsternis verzehrt,
die trübe Nacht in Licht verkehrt.
Leit uns auf deinen Wegen,
daß dein Gesicht
und herrlichs Licht
wir ewig schauen mögen!
47. Arie — Bass
Erleucht auch meine finstre Sinnen,
erleuchte mein Herze
durch der Strahlen klaren Schein!
Dein Wort soll mir die hellste Kerze
in allen meinen Werken sein;
dies lässet die Seele nichts Böses beginnen.
48. Rezitativ (Evangelist: Tenor)
»Da das der König Herodes hörte, erschrak er und mit ihm das ganze Jerusalem.«
49. Rezitativ — Alt
Warum wollt ihr erschrecken?
Kann meines Jesu Gegenwart
euch solche Furcht erwecken?
O! solltet ihr euch nicht
vielmehr darüber freuen,
weil er dadurch verspricht,
der Menschen Wohlfahrt zu verneuen.
50. Rezitativ (Evangelist: Tenor)
»Und ließ versammlen alle Hohepriester und Schriftgelehrten unter dem Volk und erforschete von
ihnen, wo Christus sollte geboren werden. Und sie sagten ihm: Zu Bethlehem im jüdischen Lande; denn also stehet geschrieben durch den Propheten: Und du Bethlehem im jüdischen Lande, bist mitnichten die kleinest unter den Fürsten Juda; denn aus dir soll mir kommen der Herzog, der über mein Volk Israel ein Herr sei.«
51. Arie Terzett — Sopran, Alt, Tenor
Ach, wenn wird die Zeit erscheinen?
Ach, wenn kömmt der Trost der Seinen?
Schweigt, er ist schon würklich hier!
Jesu, ach so komm zu mir!
52. Rezitativ — Alt
Mein Liebster herrschet schon.
Ein Herz, das seine Herrschaft liebet
und sich ihm ganz zu eigen gibet,
ist meines Jesu Thron.
53. Choral
Zwar ist solche Herzensstube
wohl kein schöner Fürstensaal,
sondern eine finstre Grube;
doch, sobald dein Gnadenstrahl
in denselben nur wird blinken,
wird es voller Sonnen dünken.
Bibliographical references
All libretti sourced from Neue Bach-Ausgabe. Johann Sebastian Bach. Neue Ausgabe sämtlicher Werke, published by the Johann-Sebastian-Bach-Institut Göttingen and the Bach-Archiv Leipzig, Series I (Cantatas), vol. 1–41, Kassel and Leipzig, 1954–2000.
All in-depth analyses by Anselm Hartinger (English translations/editing by Alice Noger-Gradon/Mary Carozza) based on the following sources:  Hans-Joachim Schulze, Die Bach-Kantaten. Einführungen zu sämtlichen Kantaten Johann Sebastian Bachs, Leipzig, 2nd edition, 2007; Alfred Dürr, Johann Sebastian Bach. Die Kantaten, Kassel, 9th edition, 2009, and Martin Petzoldt, Bach-Kommentar. Die geistlichen Kantaten, Stuttgart, vol. 1, 2nd edition, 2005 and vol. 2, 1st edition, 2007.