Herr, deine Augen sehen nach dem Glauben
BWV 102 // For the Tenth Sunday after Trinity
(Lord, thine eyes look after true believing) for soprano, alto, tenor and bass, oboe I+II, transverse flute, strings and basso continuo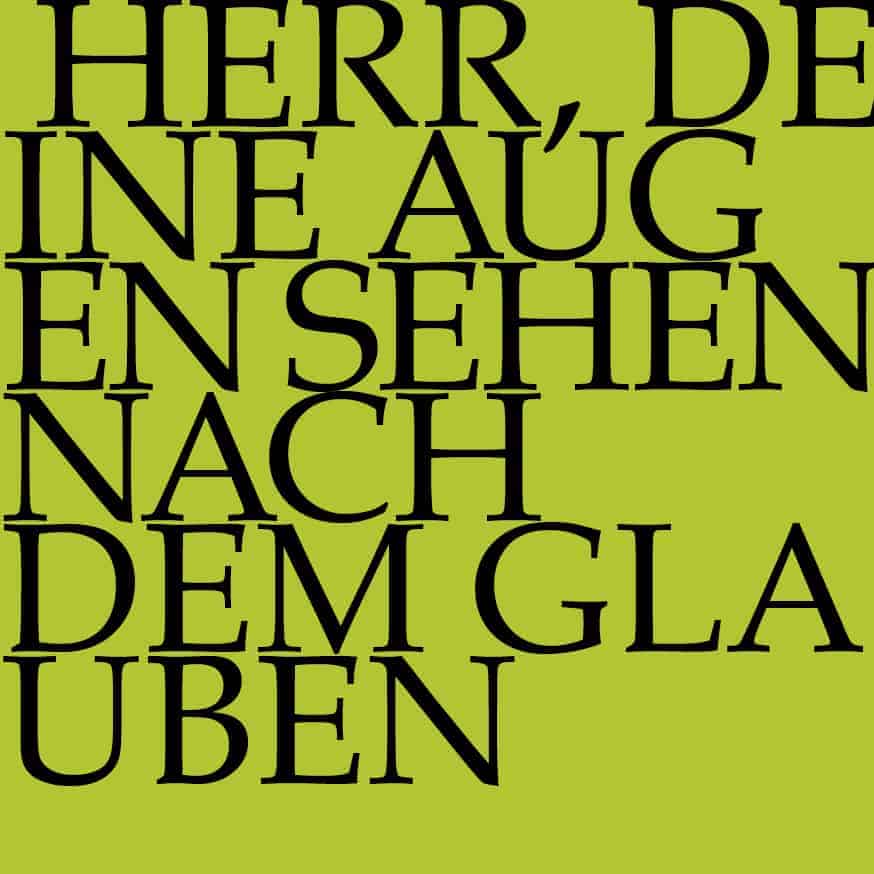 Video
Listen and see the introductory workshop, the concert and the reflection lecture in full length.
Workshop
Reflection lecture
Orchestra
Conductor & Harpsichord
Rudolf Lutz
Violin
Renate Steinmann, Monika Baer
Viola
Susanna Hefti
Violoncello
Martin Zeller
Violone
Markus Bernhard
Transverse flute
Tomoko Mukoyama
Oboe
Andreas Helm, Ingo Müller
Bassoon
Susann Landert
Organ
Nicola Cumer
Musical director & conductor
Rudolf Lutz
Workshop
Participants
Rudolf Lutz, Pfr. Niklaus Peter
Reflection lecture
Speaker
Peter Gülke
Recording & editing
Recording date
23/08/2019
Recording location
St. Gallen // Kirche St. Mangen
Sound engineer
Stefan Ritzenthaler, Nikolaus Matthes
Director
Meinrad Keel
Production manager
Johannes Widmer
Production
GALLUS MEDIA AG, Switzerland
Producer
J.S. Bach Foundation of St. Gallen, Switzerland
Matching publications in our shop
Librettist
First performance
25 August 1726, Leipzig
Text
Jeremiah 5:3 (movement 1); Romans 2:4–5 (movement 4); Johann Heermann (movement 7); anonymous (movements 2, 3, 5, 6; Herzog Ernst-Ludwig von Sachsen-Meiningen)
Text of the work and musical-theological comments
1. Chor
Herr, deine Augen sehen nach dem Glauben!
Du schlägest sie, aber sie fühlens nicht;
du plagest sie, aber sie bessern sich nicht.
Sie haben ein härter Angesicht denn ein
Fels und wollen sich nicht bekehren.
2. Rezitativ — Bass
Wo ist das Ebenbild, das Gott uns eingepräget, wenn der verkehrte Will sich ihm zuwider leget? Wo ist die Kraft von seinem Wort, wenn alle Besserung weicht aus dem Herzen fort? Der Höchste suchet uns durch Sanftmut zwar zu zähmen, ob der verirrte Geist sich wollte noch bequemen; doch, fährt er fort in dem verstockten Sinn, so gibt er ihn ins Herzens Dünkel hin.
3. Arie — Alt
Weh der Seele, die den Schaden
nicht mehr kennt
und, die Straf auf sich zu laden,
störrig rennt,
ja von ihres Gottes Gnaden
Selbst sich trennt.
4. Arioso — Bass
Verachtest du den Reichtum seiner Gnade,
Geduld und Langmütigkeit?
Weißest du nicht, daß dich Gottes
Güte zur Buße locket?
Du aber nach deinem verstockten
und unbußfertigen Herzen häufest dir
selbst den Zorn auf den Tag des Zorns
und der Offenbarung des gerechten
Gerichts Gottes.
5. Arie — Tenor
Erschrecke doch,
du allzu sichre Seele!
Denk, was dich würdig zähle
der Sünden Joch.
Die Gottes Langmut geht auf einem
Fuß von Blei,
damit der Zorn hernach dir desto
schwerer sei.
6. Rezitativ — Alt
Bei Warten ist Gefahr;
willt du die Zeit verlieren?
Der Gott, der ehmals gnädig war,
kann leichtlich dich vor seinen Richtstuhl
führen. Wo bleibt sodann die Buß? Es ist
ein Augenblick, der Zeit und Ewigkeit, der
Leib und Seele scheidet; verblendter Sinn,
ach kehre doch zurück, daß dich dieselbe
Stund nicht finde unbereitet!
7. Choral
Heut lebst du, heut bekehre dich!
Eh morgen kömmt, kanns ändern sich;
wer heut ist frisch, gesund und rot,
ist morgen krank, ja wohl gar tot.
So du nun stirbest ohne Buß,
dein Leib und Seel dort brennen muß.
Hilf, o Herr Jesu, hilf du mir,
daß ich noch heute komm zu dir
und Buße tu den Augenblick,
eh mich der schnelle Tod hinrück,
auf daß ich heut und jederzeit
zu meiner Heimfahrt sei bereit.
Bibliographical references
All cantata texts were taken from «Neue Bach-Ausgabe. Johann Sebastian Bach. Neue Ausgabe sämtlicher Werke», published by the Johann-Sebastian-Bach-Institut Göttingen and the Bach-Archiv Leipzig, Series I (Cantatas), vol. 1-41, Kassel and Leipzig, 1954-2000.
All introductory texts to the works including the texts " in-depth analysis" as well as the " musical-theological comments" were written by Anselm Hartinger and Rev. Niklaus Peter as well as Rev. Karl Graf (translations by Alice Noger) upon consideration of the following references:  Hans-Joachim Schulze, «Die Bach-Kantaten. Einführungen zu sämtlichen Kantaten Johann Sebastian Bachs», Leipzig, 2nd edition, 2007; Alfred Dürr, «Johann Sebastian Bach. Die Kantaten», Kassel, 9th edition, 2009, and Martin Petzoldt, «Bach-Kommentar. Die geistlichen Kantaten», Stuttgart, vol. 1, 2nd edition, 2005 and vol. 2, 1st edition, 2007.