Christen, ätzet diesen Tag
BWV 063 // For Christmas Day
(Christians, etch ye now this day) for soprano, alto, tenor and bass, vocal ensemble, trumpets I-IV, timpani, oboe I-III, bassoon, strings and continuo.
In 1957, Bach specialist Alfred Dürr wrote that BWV 63, more than any other of Bach's cantatas, strives to unify the highest intensity of magnificence with the maximum level of economy. Indeed, three of its four large-scale movements – the two choruses and the aria – follow a strict da capo form. While it is known that the work was re-performed in Leipzig for Christmas in 1793 and probably also in 1729, the exact origin of the cantata has yet to be determined. The surviving original parts would suggest Bach's Weimar years of 1713/14; nonetheless, the performance of a cantata with a practically identical libretto by Gottfried Kirchhoff, music director of Halle, for the bicentennial celebration of the Reformation in 1717 indicates that Bach may have written "Christen, ätzet diesen Tag" (Christians etch ye now this day) in 1713 as part of his application for the position of organist at the Marktkirche in Halle.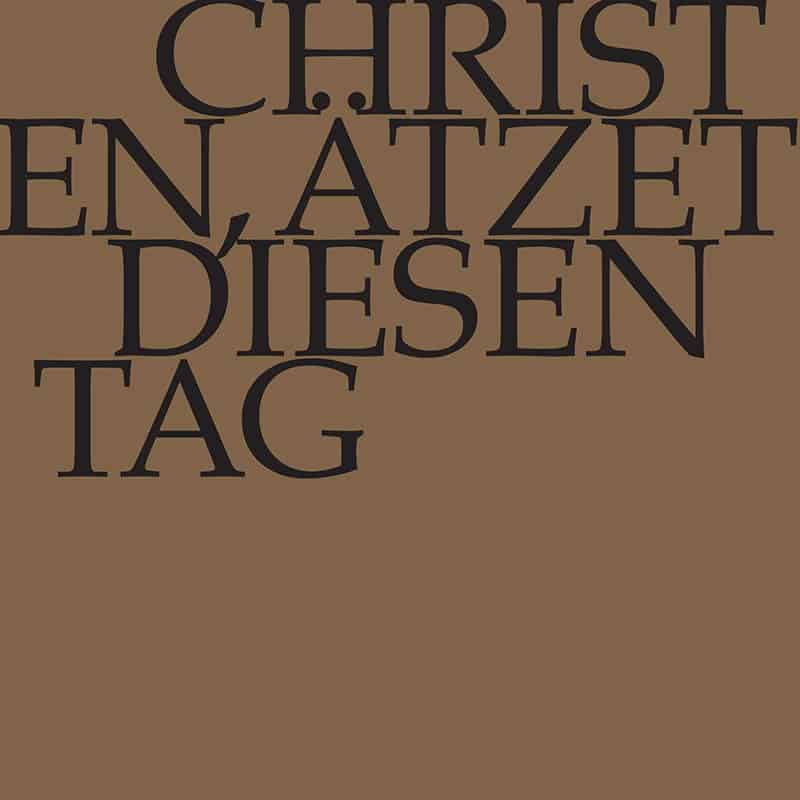 Video
Experience the introductory workshop, concert and reflective lecture in full length.
Workshop
Reflective lecture
«Lutzogram» for the introductory workshop
Rudolf Lutz's manuscript for the workshop
Audio
The sound recording of this work is available on several streaming and download platforms.
Soloists
Choir
Soprano
Susanne Frei, Mami Irisawa, Jennifer Rudin, Noëmi Tran Rediger
Alto
Jan Börner, Antonia Frey, Olivia Heiniger, Lea Scherer
Tenor
Manuel Gerber, Walter Siegel, Marcel Fässler
Bass
Fabrice Hayoz, Philippe Rayot, Oliver Rudin
Orchestra
Conductor & harpsichord
Rudolf Lutz
Violin
Renate Steinmann, Martin Korrodi, Anais Chen, Sylvia Gmür, Christoph Rudolf, Ildiko Sajgo
Viola
Susanna Hefti, Martina Bischof
Violoncello
Maya Amrein
Violone
Iris Finkbeiner
Oboe
Luise Baumgartl, Esther Fluor, Hanna Geisel
Bassoon
Susann Landert
Tromba da tirarsi
Patrick Henrichs, Peter Hasel, Klaus Pfeiffer, Michael Bühler
Timpani
Martin Homann
Organ
Norbert Zeilberger
Musical director & conductor
Rudolf Lutz
Workshop
Participants
Karl Graf, Rudolf Lutz
Reflective lecture
Speaker
Iso Camartin
Recording & editing
Recording date
12/19/2008
Recording location
Trogen
Sound engineer
Stefan Ritzenthaler
Director
Meinrad Keel
Production manager
Johannes Widmer
Production
GALLUS MEDIA AG, Switzerland
Producer
J.S. Bach Foundation of St. Gallen, Switzerland
Matching publications in our shop
Librettist
Text
Poet unknown
Text No. 1, 3, 5, 7
Based on a text by Johann Michael Heineccius
(1674–1722)
First performance
25 December 1723, Leipzig
In-depth analysis
The introductory chorus opens with an orchestral prelude whose full wind section and powerful tutti rhythms joyfully announce that the dark, musical dearth of Advent is over; Christmas morning is here! The opulent scor-ing for four trumpets, timpani, three oboes and strings is featured only one other time in Bach's cantata oeuvre, namely in the ceremonial music for the Leipzig council elections "Preise, Jerusalem, den Herren" (Praise, O Jerusalem, the Lord) BWV 119. But Bach is not content to allow the music to simply revel in Christmas joy; rather, he assigns the vocalists a dense movement of coloraturas that focuses more on textual meaning than on rejoicing of the day. Here, the melismas seem to literally "etch" the news of the birth of Jesus Christ into the eternal memory of Christians. At the same time, it may be that Bach, who was raised in a city of craftsmen, wanted to pay homage to the stone masons and engravers who worked so laboriously for the courts and churches of the times. In the middle section of the chorus, the "light" of God's mercy then breaks forth and emerges as the work's inspiration.
The inner movements that follow were conceived with particular care. The shimmer-ing string timbre of the recitative "O blessed day! O day exceeding rare" reveals the transcendent spirit of the day, while the repetition of the libretto in the vocal parts and orchestral postlude powerfully evoke the unfathomable act of Christ's sacrifice. The tenor recitative no. 4 eschews the usual strings and employs instead a virtuosic continuo line to convey the stout courage of the libretto. In the richly orchestrated bass recitative, it seems that Bach, by scoring the accompaniment with both strings and oboes, wanted to interpret the text of "Redouble then your strength, ye ardent flames of worship" literally in the music.
As a rare example, both arias are composed as duets. In the first, a tender adagio, the soprano and bass express their grateful wonderment at God's love and sacrifice, accompanied by an elegiac oboe cantilena that soars over the saraband-like foundation. In contrast, the alto and tenor duet is accompanied by a full string section that, in a swing-ing 3⁄8 time, calls God's faithful believers to join together in thanksgiving.
The work concludes with a closing chorus "Highest, look with mercy now" – an unconventional combination of polychoral orchestral concertante passages, catchy choruses and a fugue-like motet. However, the middle section makes all too clear that the idyll of the Nativity and human happiness remain constantly threatened by the malevolence of Satan: Christmas rejoicing and its decorations are but thin veneers masking the temptation, death and (spiritual) privation that pervaded everyday life in the early modern era.
Libretto
1. Chor
Christen, ätzet diesen Tag
in Metall und Marmorsteine!
Kommt und eilt mit mir zur Krippen
und erweist mit frohen Lippen
euren Dank und eure Pflicht;
denn der Strahl, so da einbricht,
zeigt sich euch zum Gnadenscheine.
2. Rezitativ (Alt)
O selger Tag! O ungemeines Heute,
an dem das Heil der Welt,
der Schilo, den Gott schon im paradies
dem menschlichen Geschlecht verhiess,
nunmehro sich vollkommen dargestellt,
und suchet Israel von der Gefangenschaft
und Sklavenketten des Satans zu erretten.
Du liebster Gott, was sind wir arme doch?
Ein abgefallnes Volk, so dich verlassen;
und dennoch willst du uns nicht hassen;
denn eh wir sollen noch nach dem Verdienst zu Boden liegen,
eh muss die Gottheit sich bequemen,
die menschliche Natur an sich zu nehmen
und auf der Erden
im Hirtenstall zu einem Kinde werden.
O unbegreifliches, doch seliges Verfügen!
3. Arie (Sopran, Bass)
Gott, du hast es wohl gefüget,
was uns itzo widerfährt.
Drum lasst uns auf ihn stets trauen
und auf seine Gnade bauen,
denn er hat uns dies beschert,
was uns ewig nun vergnüget.
4. Rezitativ (Tenor)
So kehret sich nun heut das bange Leid,
mit welchem Israel geängstet und beladen,
in lauter Heil und Gnaden.
Der Löw aus Davids Stamme ist erschienen,
sein Bogen ist gespannt, das Schwert ist schon gewetzt,
womit er uns in vor'ge Freiheit setzt.
5. Arie (Alt, Tenor)
Ruft und fleht den Himmel an,
kommt, ihr Christen, kommt zum Reihen!
Ihr sollt euch ob dem erfreuen,
was Gott hat anheut getan!
Da uns seine Huld verpfleget
und mit so viel Heil beleget,
dass man nicht g'nug danken kann.
6. Rezitativ (Bass)
Verdoppelt euch demnach,
ihr heissen Andachtsflammen,
und schlagt in Demut brünstiglich zusammen!
Steigt fröhlich himmelan
und danket Gott vor dies, was er getan!
7. Chor
Höchster, schau in Gnaden an
diese Glut gebückter Seelen!
Lass den Dank, den wir dir bringen,
angenehme vor dir klingen,
lass uns stets in Segen gehn,
aber niemals nicht geschehn,
dass uns Satan möge quälen.
Bibliographical references
All libretti sourced from Neue Bach-Ausgabe. Johann Sebastian Bach. Neue Ausgabe sämtlicher Werke, published by the Johann-Sebastian-Bach-Institut Göttingen and the Bach-Archiv Leipzig, Series I (Cantatas), vol. 1–41, Kassel and Leipzig, 1954–2000.
All in-depth analyses by Anselm Hartinger (English translations/editing by Alice Noger-Gradon/Mary Carozza) based on the following sources:  Hans-Joachim Schulze, Die Bach-Kantaten. Einführungen zu sämtlichen Kantaten Johann Sebastian Bachs, Leipzig, 2nd edition, 2007; Alfred Dürr, Johann Sebastian Bach. Die Kantaten, Kassel, 9th edition, 2009, and Martin Petzoldt, Bach-Kommentar. Die geistlichen Kantaten, Stuttgart, vol. 1, 2nd edition, 2005 and vol. 2, 1st edition, 2007.