Was frag ich nach der Welt
BWV 094 // For the Ninth Sunday after Trinity
(What need I of this world) for soprano, alto, tenor and bass, vocal ensemble, transverse flute, oboe I+II, bassoon, strings and basso continuo
It would be a disservice to the cantata "Was frag ich nach der Welt" (What need I of this world), composed for the Ninth Sunday after Trinity in 1724, were we to misconstrue it as a conventional example of a Protestant renouncement of the earthly world. After all, the composition is replete with subtle arguments and messages that inspired Bach to sensitive and original compositional solutions.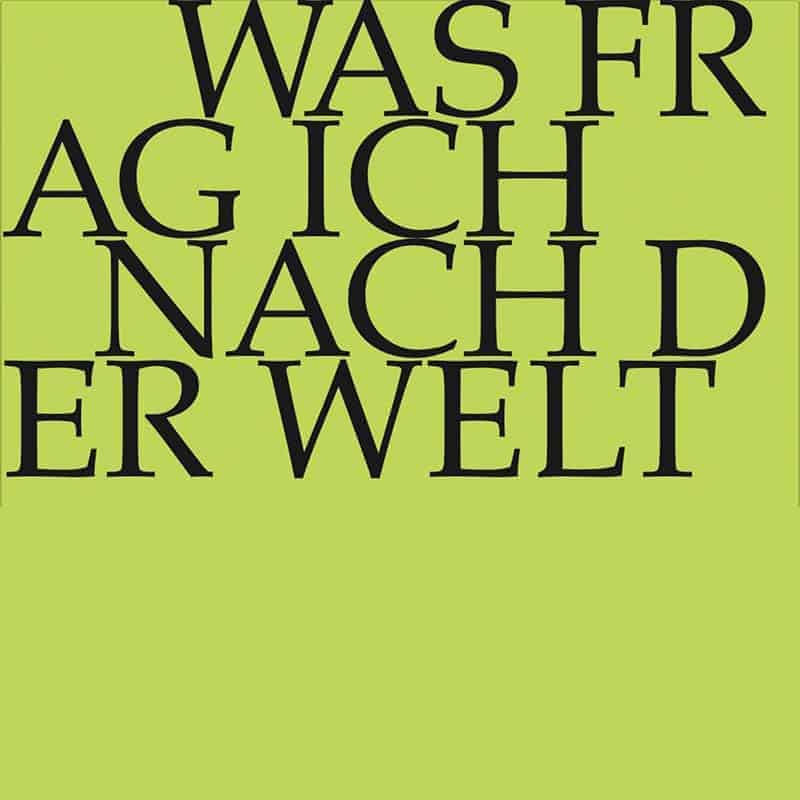 Video
Experience the introductory workshop, concert and reflective lecture in full length.
Workshop
Reflective lecture
«Lutzogram» for the introductory workshop
Rudolf Lutz's manuscript for the workshop
Audio
The sound recording of this work is available on several streaming and download platforms.
Soloists
Choir
Soprano
Lia Andres, Guro Hjemli, Noëmi Tran Rediger, Susanne Seitter, Noëmi Sohn Nad, Alexa Vogel
Alto
Jan Börner, Antonia Frey, Francisca Näf, Alexandra Rawohl, Lea Scherer
Tenor
Clemens Flämig, Manuel Gerber, Raphael Höhn, Nicolas Savoy
Bass
Fabrice Hayoz, Valentin Parli, Philippe Rayot, William Wood
Orchestra
Conductor
Rudolf Lutz
Violin
Plamena Nikitassova, Dorothee Mühleisen, Christine Baumann, Eva Borhi, Christoph Rudolf, Ildiko Sajgo
Viola
Martina Bischof, Sarah Krone, Peter Barczi
Violoncello
Maya Amrein, Hristo Kouzmanov
Violone
Iris Finkbeiner
Oboe
Katharina Arfken, Philipp Wagner
Bassoon
Susann Landert
Transverse flute
Marc Hantaï
Organ
Nicola Cumer
Harpsichord
Thomas Leininger
Musical director & conductor
Rudolf Lutz
Workshop
Participants
Karl Graf, Rudolf Lutz
Reflective lecture
Speaker
Manfred Papst
Recording & editing
Recording date
08/15/2014
Recording location
Trogen
Sound engineer
Stefan Ritzenthaler
Director
Meinrad Keel
Production manager
Johannes Widmer
Production
GALLUS MEDIA AG, Switzerland
Producer
J.S. Bach Foundation of St. Gallen, Switzerland
Matching publications in our shop
Librettist
Text No. 1, 3, 5, 8
Balthasar Kindermann (1664)
Text No. 2, 4, 6, 7
Rearrangement by an unknown writer
First performance
Ninth Sunday after Trinity,
6 August 1724
In-depth analysis
The introductory chorus, with its concertante flute part and light-footed orchestral accompaniment, contains no strains of worldly angst and futility, but rather of clear-sighted joy and resolve. Indeed, few settings by Bach are more suited to eschewing the tone of solemnity that often weighs on Bach performances and to revealing the original vigour of his work. The choral insertion, with its clear, block-like entries, is enhanced by subtle details such as the low pedal notes after the words "Thou, thou are my repose" that are particularly effective in this translucent setting.
The bass aria opens with an expansive continuo gesture that lends substance to the words of the soloist, whose song is more akin to a reflective soliloquy than a thundering sermon. It is the voice of a worldly-wise sage who knows the perpetual "breaking and falling" of human hopes and thus seeks solace in Jesus, whose constancy is underscored in the music. Propelled by the ostinato-style continuo line, the aria intensifies towards the conclusion: the final line "what need I of this world" is presented less as a question than as a clear renunciation of the world.
The tenor recitative, which links elaborate chorale lines accompanied by flowing woodwinds with plainer recitative insertions, proffers a catalogue of foolish earthly notions that are gradually revealed to be hollow. Among their Leipzig acquaintance, Bach and his librettist appear to have closely observed those who strutted around self-importantly and built their vain "tower of pride"; it is thus all the more shocking when the soloist drastically declares how quickly it all can end: the "wretched earthly worm" cannot be saved by such worldly display – all pomp vanishes in the grave! The bitterness of this realisation can be heard in the laboured bel canto of the third chorale line; it is then the gentle introduction of Jesus' name that helps the narrator to alter his perspective and accept rejection of the world as a stance befitting the faithful Christian.
The following alto aria, an adagio meditation, is lent a wan tone of transience by the obbligato transverse flute; in this lament on the blindness of human beings, the pain-filled vocal line continually breaks off in grief and disappointment. The swift middle section then describes the determination to choose Jesus over vain Mammon – a promise that is celebrated in a touchingly slow transition section ere the short da-capo dispenses with the "deluded world" once and for all.
In the bass recitative, Bach continues his interpretation of the chorale. Once again, the soloist presents a delicately ornate melody while a chromatically descending continuo line underscores the pervading mood of affliction and contempt. Throughout the discursive recitative insertions, however, a new attitude emerges that presents these torments as the result of self-inflicted entrapments – for which mankind, in view of God's divine gifts, can only feel shame. When the accompanying figure begins an ascent on the words "I suffer Christ's disgrace", a more healing interpretation of worldly suffering emerges that finds its purpose in identification with the Saviour.
The turning point thus achieved, the tenor embarks on a lively aria in 12/8 metre whose compact accessibility is reminiscent of Telemann. The underlying tone is one of ridicule of the glaring self-worship of those who, like blind moles, dig for worthless treasure while ignoring the riches of heaven. In this somewhat zealous music of converts, we can almost see a reformed junkie who remembers all too clearly what he has put behind him.
It is not surprising, then, that the following soprano aria presents a more subdued confession of faith, with the warm oboe d'amore line accompanying the vocalist like a comforting kindred spirit. Here, the tender albeit somewhat dry motive may be seen as a nod to the "travails of the plains" entailed in a life of virtue.
In a powerful four-part setting, the closing two-verse chorale cuts to the heart of the cantata's message: all possessions of the world cannot "put pallid death in bondage"; mankind's surest investment remains trusting in the heaven attained through Jesus.
Libretto
1. Chor

Was frag ich nach der Welt
und allen ihren Schätzen,
wenn ich mich nur an dir,
mein Jesu, kann ergötzen!
Dich hab ich einzig mir
zur Wollust fürgestellt,
zur Wollust vorgestellt,
du, du bist meine Ruh:
Was frag ich nach der Welt!
2. Arie (Bass)
Die Welt ist wie ein Rauch und Schatten,
der bald verschwindet und vergeht,
weil sie nur kurze Zeit besteht.
Wenn aber alles fällt und bricht,
bleibt Jesus meine Zuversicht,
an dem sich meine Seele hält.
Darum: Was frag ich nach der Welt!
3. Rezitativ (Tenor)
Die Welt sucht Ehr und Ruhm
bei hocherhabnen Leuten.
Ein Stolzer baut die prächtigsten Paläste,
er sucht das höchste Ehrenamt,
er kleidet sich aufs beste
in Purpur, Gold, in Silber, Seid und Samt.
Sein Name soll für allen
Sein Name soll vor
in jedem Teil der Welt erschallen.
Sein Hochmuts-Turm
soll durch die Luft bis an die Wolken dringen,
er trachtet nur nach hohen Dingen
und denkt nicht einmal dran,
wie bald doch diese gleiten.
Oft bläst uns eine schale Luft
den stolzen Leib auf einmal in die Gruft,
und da verschwindet alle Pracht,
wormit der arme Erdenwurm
hier in der Welt so großen Staat gemacht.
Ach! solcher eitler Tand
wird weit von mir aus meiner Brust verbannt.
Dies aber, was mein Herz
vor anderm rühmlich hält,
was Christen wahren Ruhm
und wahre Ehre gibet,
und was mein Geist,
der sich der Eitelkeit entreißt,
anstatt der Pracht und Hoffart liebet,
ist Jesus nur allein,
und dieser solls auch ewig sein.
Gesetzt, daß mich die Welt
darum vor töricht hält:
Was frag ich nach der Welt!
4. Arie (Alt)
Betörte Welt, betörte Welt!
Auch dein Reichtum, Gut und Geld
ist Betrug und falscher Schein.
Du magst den eitlen Mammon zählen,
ich will davor mir Jesum wählen;
ich will dafür
Jesus, Jesus soll allein
meiner Seelen Reichtum sein.
Betörte Welt, betörte Welt!
5. Rezitativ (Bass)
Die Welt bekümmert sich.
Was muß doch wohl der Kummer sein?
O Torheit! dieses macht ihr Pein:
im Fall sie wird verachtet.
Welt, schäme dich!
Gott hat dich ja so sehr geliebet,
daß er sein eingebornes Kind
vor deine Sünd
zur größten Schmach um deine Ehre gibet,
und du willst nicht um Jesu willen leiden?
Die Traurigkeit der Welt ist niemals größer,
als wenn man ihr mit List
nach ihren Ehren trachtet.
Es ist ja besser,
ich trage Christi Schmach,
solang es ihm gefällt.
Es ist ja nur ein Leiden dieser Zeit,
ich weiß gewiß, daß mich die Ewigkeit
dafür mit Preis und Ehren krönet;
ob mich die Welt
verspottet und verhöhnet,
Ob sie mich gleich verächtlich hält,
wenn mich mein Jesus ehrt:
Was frag ich nach der Welt!
6. Arie (Tenor)
Die Welt kann ihre Lust und Freud,
das Blendwerk schnöder Eitelkeit,
nicht hoch genug erhöhen.
Sie wühlt, nur gelben Kot zu finden,
gleich einem Maulwurf in den Gründen
und läßt dafür den Himmel stehen.
7. Arie (Sopran)
Es halt es mit der blinden Welt,
wer nichts auf seine Seele hält,
mir ekelt vor der Erden.
Ich will nur meinen Jesum lieben
und mich in Buß und Glauben üben,
so kann ich reich und selig werden.
8. Choral
Was frag ich nach der Welt!
Im Hui muß sie verschwinden,
ihr Ansehn kann durchaus den blassen Tod nicht binden.
Die Güter müssen fort,
und alle Lust verfällt;
bleibt Jesus nur bei mir:
Was frag ich nach der Welt!
Was frag ich nach der Welt!
Mein Jesus ist mein Leben,
mein Schatz, mein Eigentum,
dem ich mich ganz ergeben,
mein ganzes Himmelreich
und was mir sonst gefällt.
Drum sag ich noch einmal:
Was frag ich nach der Welt!
Bibliographical references
All libretti sourced from Neue Bach-Ausgabe. Johann Sebastian Bach. Neue Ausgabe sämtlicher Werke, published by the Johann-Sebastian-Bach-Institut Göttingen and the Bach-Archiv Leipzig, Series I (Cantatas), vol. 1–41, Kassel and Leipzig, 1954–2000.
All in-depth analyses by Anselm Hartinger (English translations/editing by Alice Noger-Gradon/Mary Carozza) based on the following sources:  Hans-Joachim Schulze, Die Bach-Kantaten. Einführungen zu sämtlichen Kantaten Johann Sebastian Bachs, Leipzig, 2nd edition, 2007; Alfred Dürr, Johann Sebastian Bach. Die Kantaten, Kassel, 9th edition, 2009, and Martin Petzoldt, Bach-Kommentar. Die geistlichen Kantaten, Stuttgart, vol. 1, 2nd edition, 2005 and vol. 2, 1st edition, 2007.